Pressure Regulators, Vacuum Regulators, Relief Valves & Comparators
At Airtrol Components Inc., we've provided high-quality, precision miniature pneumatic components for over four decades. One of our core product offerings is air pressure regulators, which come in numerous variations to suit different pneumatic system applications.
Air pressure regulators are devices designed to regulate fluid pressure in a pneumatic system. They reduce high input pressures to low output pressures that are controlled and consistent regardless of fluctuations in inlet pressure. As a result, they help improve operator safety, operating costs, and system efficiency.
For quality air pressure regulators you can trust in your pneumatic systems, turn to the experts at Airtrol Components! We provide regulators suitable for use in light-duty to medium-duty applications that require small, lightweight, and precise components. For more information on these products, visit our product page or contact us today. To order parts, check out our local distributors and international distributors.
F-4103 Series Spring Biased Comparators
Airtrol Components F-4103 Series spring biased comparators are essentially a regulator with an adjustable bias (positive or negative), and a control or pilot input. Standard units offer a 1:1 ratio, plus or minus the initial bias. Special 3:1 and 5:1 ratio units are also available. Perfect for HVAC applications, and unique control applications requiring a positive or negative offset. Non-rising stem is available with an attractive knob, plain (allowing installation of OEM knobs) or flush for "back panel" installations.
4104 Series Pressure & Vacuum Regulators
Airtrol 4104 series pressure and vacuum regulators are designed for applications requiring very low output settings and low flow. Full scale ranges as low as 1.5 psi pressure and 3″ Hg vacuum are available. Settings as low as 1″ WC are easily maintained with both. Both units will also accept a pilot input, allowing pneumatic control of the output setting (see schematics). Hysteresis free adjustments are made through a non-rising stem, available with an attractive knob, plain (to allow the installation of OEM knobs) or flush for "back panel" applications.
Spring Biased Comparator Schematics
RV-5200, RV-5300 Miniature Relief Valve
The RV-5200 and RV-5300 Series operate as either a relief valve or low flow back pressure regulators. Adjustments are made through a non-rising stem available with an attractive knob, plain to allow insulation of OEM knobs, or flush for "back panel" applications. A typical application would be the use of a unit between a compressor and a load to prevent the compressor from "loading up" when dead-ended.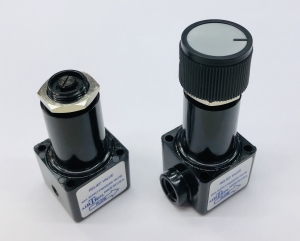 S-5200, S-5300 Miniature Sequence Valve
The S-5200 and S-5300 Series are designed for applications requiring precise sequencing of pneumatic control circuits. Sequencing and deadband characteristics can be tuned by varying the output restriction. Adjustments are made through a non-rising stem, available with an attractive knob, plain to allow the insulation of OEM knobs or flush for "back panel" applications.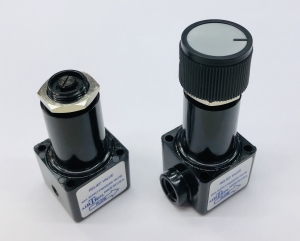 An Overview of Air Pressure Regulators
Air pressure regulators are valves designed to automatically limit airflow pressure when it reaches a certain level. By doing so, they minimize the risk of pressure fluctuation to ensure the system maintains consistent air pressure levels. The following article provides an overview of pressure regulators, including what they are, what their function is, types available, selection considerations, and typical applications.
How Does an Air Pressure Regulator Work?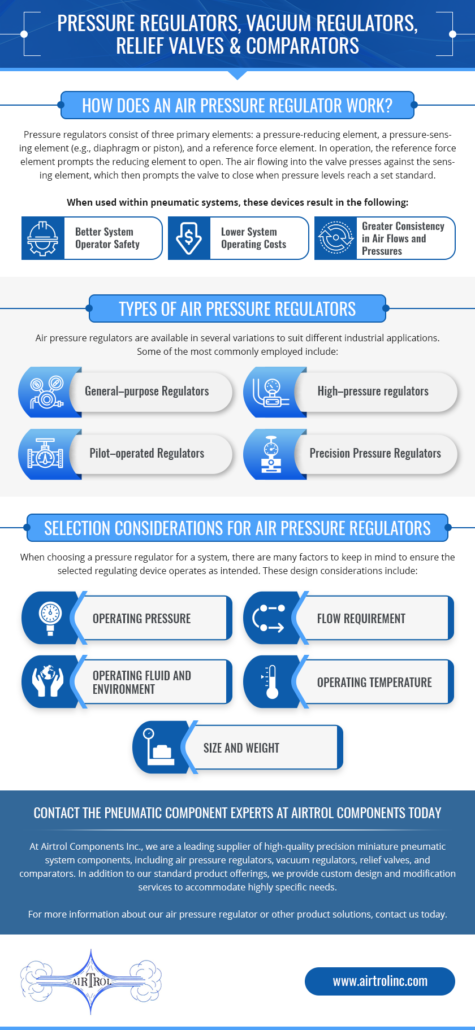 Pressure regulators consist of three primary elements: a pressure-reducing element, a pressure-sensing element (e.g., diaphragm or piston), and a reference force element. In operation, the reference force element prompts the reducing element to open. The air flowing into the valve presses against the sensing element, which then prompts the valve to close when pressure levels reach a set standard.
When used within pneumatic systems, these devices result in the following:
Better system operator safety
Lower system operating costs
Greater consistency in air flows and pressures
Types of Air Pressure Regulators
Air pressure regulators are available in several variations to suit different industrial applications. Some of the most commonly employed include:
General–purpose regulators are designed for use with pressures above atmospheric pressure. They are typically rated for inlet pressures of 20 bar and outlet pressures of 16 bar, depending on the construction material.
High–pressure regulators accommodate inlet pressures above 70 bar.
Pilot–operated regulators support air pressure control from a remote location. While they offer greater control capabilities than general-purpose regulators, they generally come with a higher price tag.
Precision pressure regulators allow for more precise adjustment of air pressure in applications where a very specific or tight tolerance range of pressure is essential. In some situations, these regulators may require pre-filtering before they can filter pressure.
Selection Considerations for Air Pressure Regulators
When choosing a pressure regulator for a system, there are many factors to keep in mind to ensure the selected regulating device operates as intended. These design considerations include:
Operating Pressure
The first consideration for choosing a pressure regulator is establishing the amount of pressure the component should be able to accommodate at both the input and output ports. For pressures below 1000 psi, a general-purpose regulator may suffice, while pressures above 1000 psi may require the use of a high-pressure regulator.
Flow Requirement
Fluctuations in inlet and outlet flow and pressure affect the flow requirements for a pressure regulator. Pressures and flows that are too high or too low can cause an improperly selected regulator to fail to perform as intended.
Operating Fluid and Environment
The materials employed for the construction of a pressure regulator should be compatible with the fluid media running through the system. For example, acetal polymers are suitable for environments with strong chemicals, aluminum is appropriate for use with oxidizing compounds, and stainless steel is ideal for corrosive materials.
Operating Temperature
The construction materials should also accommodate the operating temperatures of the system. As pneumatic systems can operate at high or low temperatures, the design and construction of the pressure regulator should be planned accordingly in regard to the expected operating conditions. Typical materials used include polysulfone, Buna-N, EPDM, acetal, polyurethane, and stainless steel.
Size and Weight
The size and weight of a pressure regulator depend on the specific application. For example, some advanced applications, such as medical operations, require compact and lightweight units. Modifying both the design (port size, mounting style, etc.) and the construction material helps industry professionals achieve the size and weight they need.
Applications of Air Pressure Regulators
Air pressure regulators find use in many industrial, commercial, and residential applications. Some examples of common equipment and systems they may be found in include:
Fuel engines
Medical and dental equipment
Natural gas furnaces
Pneumatic automation systems
Propane gas grills
Contact the Pneumatic Component Experts at Airtrol Components Today
At Airtrol Components Inc., we are a leading supplier of high-quality precision miniature pneumatic system components, including air pressure regulators, vacuum regulators, relief valves, and comparators. In addition to our standard product offerings, we provide custom design and modification services to accommodate highly specific needs. For more information about our air pressure regulator or other product solutions, contact us today.
Understanding How Air Pressure Regulators Work
Air pressure regulators consist of three key elements:
The reducing element: This element decreases the pressure from the inlet to the outlet. It is controlled by the loading element and sensing element.
The loading element: This element is typically in the form of a spring. It influences the regulator's setting and the delivery pressure.
The sensing element: This element reacts to the force placed on the loading element and the pressure difference between the inlet and outlet. It is typically in the form of a metal or elastomeric diaphragm. However, heavy-duty pressure regulators may use a piston.
Selecting the Proper Material for Your Air Pressure Regulator
Air pressure regulators can be made from a wide range of materials. Some of the most commonly utilized include aluminum, brass, stainless steel, and plastic. The spring element is typically constructed from carbon steel or stainless steel.
The materials you should pick for a pressure regulator depend on the application. For example, aluminum is good for when weight is a concern, brass is suitable for most general applications, plastic is ideal for applications where affordability is critical, and stainless steel is ideal for applications involving corrosive fluids.
One of the key considerations to keep in mind when selecting a material is compatibility with the process fluid. The material should be able to withstand exposure to the gases running through the regulator.
Choosing the Right Air Pressure Regulator for Your Application
There are many factors to consider when choosing an air pressure regulator for a pneumatic system. Some of the questions you should ask yourself to ensure you choose the appropriate size include:
What is the inlet pressure that will be going into the regulator? If the pressure is too high, the system may require two regulators to lower the pressure in stages: one high-pressure regulator and one low-pressure regulator.
What is the outlet pressure required? The regulator must be able to reduce the inlet pressure to this level.
What is the downstream flow rate required? The regulator should be able to accommodate the maximum possible flow required for the application.